Duration
2 hours 45 minutes (including one intermission)
The premiere
07 / 10 / 2016
The story of the magnificent free woman raised objections when it was created; the idea to make the main character a common Gypsy who makes decisions about her life solely depending on her own will, turned out to be too revolutionary for the world premiere audience. The first staging of the opera in 1875 ended up as a spectacular failure, but later revivals reversed the bad luck. There started the triumphant march of Carmen through all opera stages of the world.
It makes you think what really attracts the viewers: whether it is the story of the love triangle, or the intriguing Spanish scenery, or the fantastic well-known melodies, or the brilliant libretto – a genuinely-moving true love story. The cause may also be the one-of-a-kind character – one of the first feminists in opera, a woman whose core of existence and the most valid life philosophy is freedom. Carmen may be a contemporary idol – she is brave, intelligent, honourable, true to herself, and also sexy: really, it is hard to imagine a more explosive mix!
Perhaps viewers find in her their own longing for the truth, for freedom, for independence, for true love – for all the grand words we do not use in everyday life but whose presence we unchangeably miss.
In our world there are still soldiers longing for women, there are women who take a cigarette break at work, there are children who play war, there are outsiders, romantics, there are pious girls and there are sport idols. We want to tell you about them, we want to immerse into their hot Spanish world so deep as deeply one can be touched by the notes written down by Bizet, so far as the current of the brilliant music may take us.

Ewelina Pietrowiak, director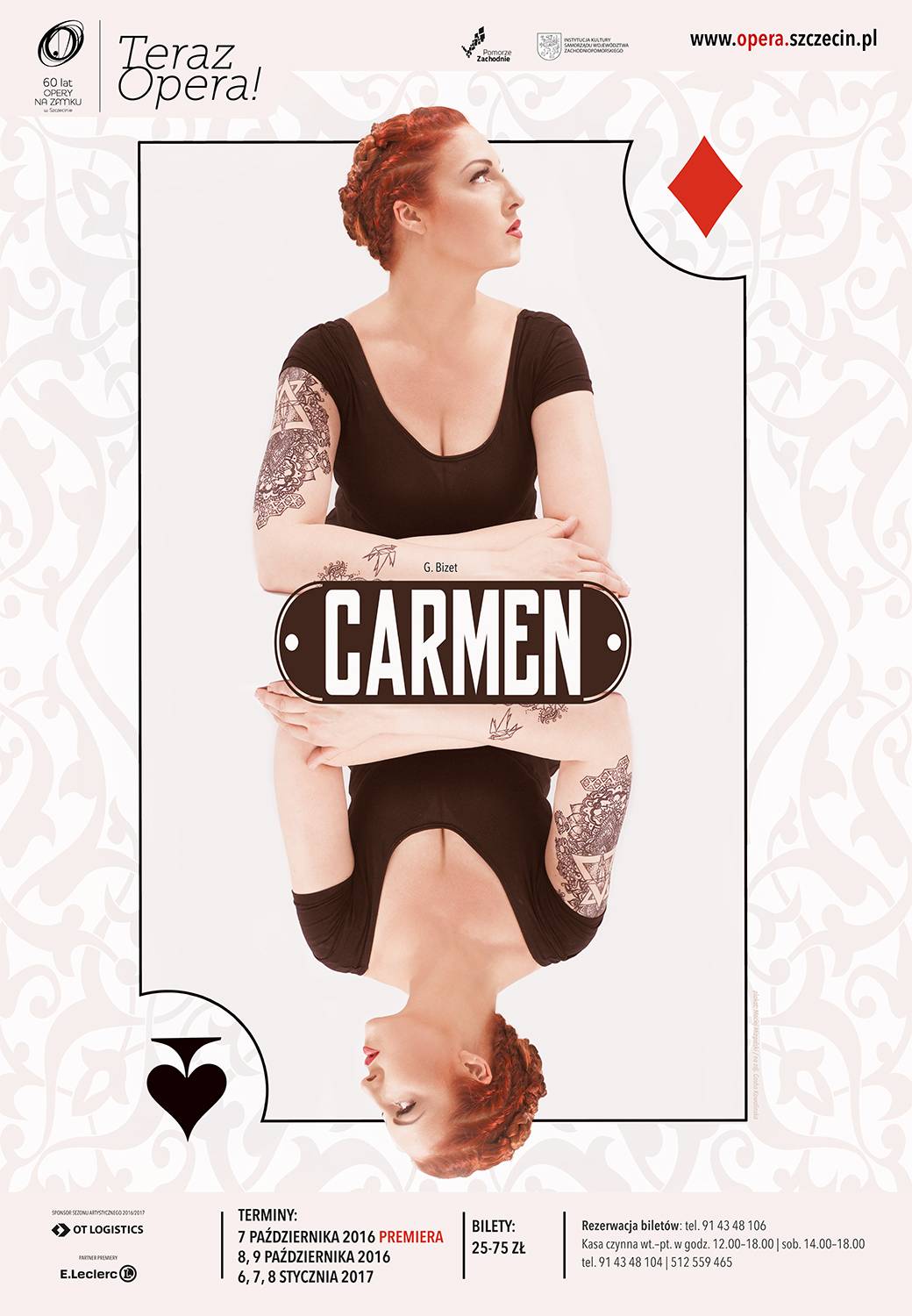 Projekt plakatu: Maciej Mizgalski
Georges Bizet (1838-1875)
Carmen
Opera in four acts
Libretto: Henri Meilac, Ludovic Halevy based on the novella by Prospera Merimee
The world premiere: Mar 3, 1875, Opéra-Comique in Paris
The original language version with Polish and German subtitles
| | |
| --- | --- |
| Music direction | Vladimir Kiradjiev |
| Direction, scenography | Ewelina Pietrowiak |
| Costume design | Katarzyna Nesteruk |
| Choreography  | Artur Żymełka |
| Light direction | Łukasz Różewicz |
| Choir preparation  | Małgorzata Bornowska |
| Children?s choir preparation  | Agata Czekalińska |
| Music cooperation | Franck Chastrusse Culumbier |
| Assistant Director  | Mirosław Kosiński  |
Carmen 
Anna Borucka
Don José
Dominik Sutowicz
Escamillo
Rafał Pawnuk
Micaëla
Lucyna Boguszewska (7.10),
Victoria Vatutina (8.10)
Frasquita 
Ewa Olszewska
Mercédés
Sandra Klara Januszewska
Dancairo
Tomasz Łuczak
Remendado 
Paweł Wolski
Zuniga 
Janusz Lewandowski
Moralés 
Michał Sobiech
 
 
Orchestra, choir and ballet of the Castle Opera
 
Children's Choir by the Opera at the Castle in Szczecin  
 
 
 
Conductor 
Vladimir Kiradjiev
Stage management  
Maria Malinowska-Przybyłowicz