Duration
3 hours (including one intermission)
The premiere
10 / 02 / 2018
"The loyalty of a woman is like Phoenix, everone has heard of it but no one knows where to look for it".
That is what Don Alfonso, one of the protagonists of the opera buffa by Wolfgang Amadeus Mozart, sings at the beginning of Cosi fan tutte, thus causing an avalanche of unexpected actions and events: from a cynical bet and money staked by the youngsters on the loyalty of their chosen ones through later shrewd tricks, entangling new suitors in the conspiracy, to weddings and poison. And all that in the beautiful scenery of southern seas, where the air is hot, and passions even hotter. Numerous misunderstandings and swapping roles make Così fan tutte probably the most hilarious comedy among Mozart's legacy, however with a serious message: it makes you reflect on human nature and makes you wonder what a relationship of two people really is based on. To emphasise the timeless character of the story its creators put the action close to nowadays where they only allude to the times of Mozart when Così fan tutte was a true moral scandal.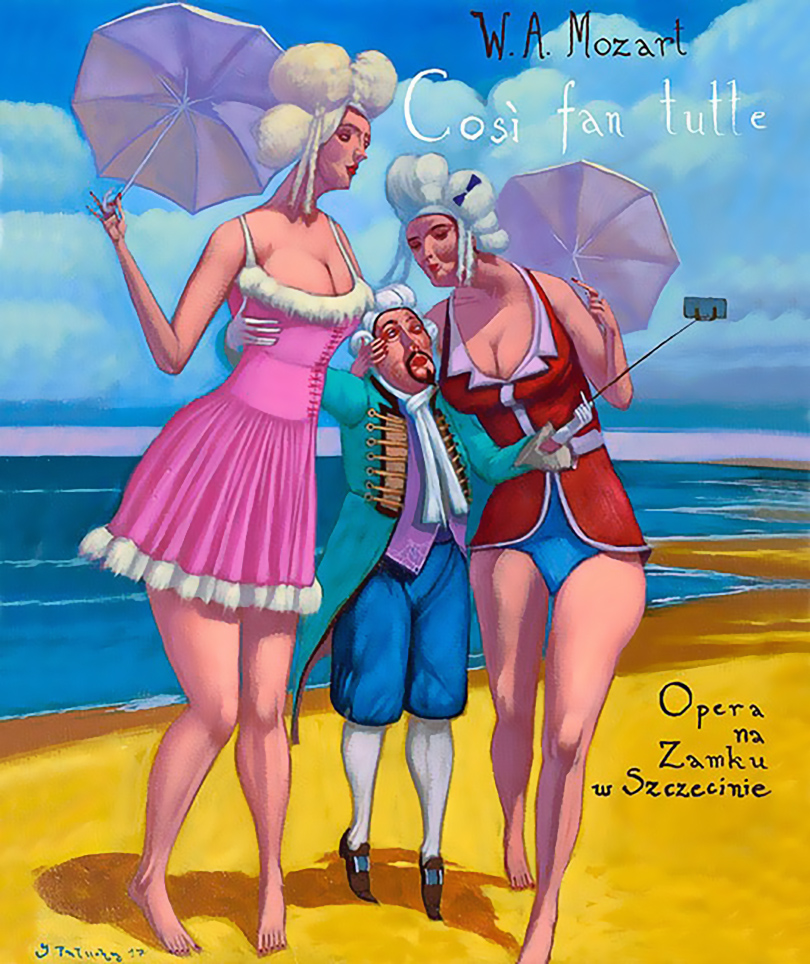 Projekt plakatu: Jacek Pałucha
Wolfgang Amadeus Mozart
Così fan tutte
ossia La scuola degli amanti
(All Women Do It, or The School for Lovers)
Opera buffa in two acts
Libretto: Lorenzo da Ponte
The world premiere: Jan 26, 1790, Vien, Burgtheater
The libretto translated by: Zdzisław Jaskuła
The original language version with Polish subtitles
| | |
| --- | --- |
| Music direction | Jerzy Wołosiuk |
| Direction  | Jacek Papis |
| Scenography | Julia Skrzynecka |
| Costume design  | Martyna Kander |
| Light direction  | Karolina Gębska |
| Choir preparation  | Małgorzata Bornowska |
| | |
| --- | --- |
| Fiordiligi  |   |
| Dorabella |   |
| Guglielmo |   |
| Ferrando |   |
| Despina  |   |
| Don Alfonso |   |
|   |   |
| Clavecin |   |
| Orchestra and choir of the Opera at the Castle |   |
|   |   |
| Conductor  |   |
| Stage management  |   |
The management of the Opera at the Castle reserves the right to make changes in the cast and in the repertoire.