Duration
ok. 2 godz. (w tym jedna przerwa)
Robert Bondara, Paolo Mangiola / Stanisław Moniuszko, Roman Palester
The evening with Polish ballets
The premiere
18 / 05 / 2019
The show comprises of two one-act ballets, a vigorous ?The Song of the Earth? of Roman Palester and ?In the lodgings? of Stanisław Moniuszko. The first choreography is the work of an Italian artist, Paolo Mangioli, the director of the national ballet in Malta, who has reinterpreted the orchestrated masterpiece and an incredible energetic score of Palester, perceiving it through the prism of universal values as a creator who had had nothing to do with the Polish music and dance culture before. The brilliant interpretation of the second choreography is the work of Robert Bondara, one of the best choreographers in Poland ? appreciated, among others, for the ability to reinterpret and update the traditional texts of Polish culture ? ?Świtezianka? of E.Morawski in Teatr Wielki ? National Opera or ?The Legend of the Baltic? of F. Nowowiejski in Teatr Wielki in Poznań.
It is surprising how the clever combination of seemingly contrast artistic concepts created a coherent story about the history of our world!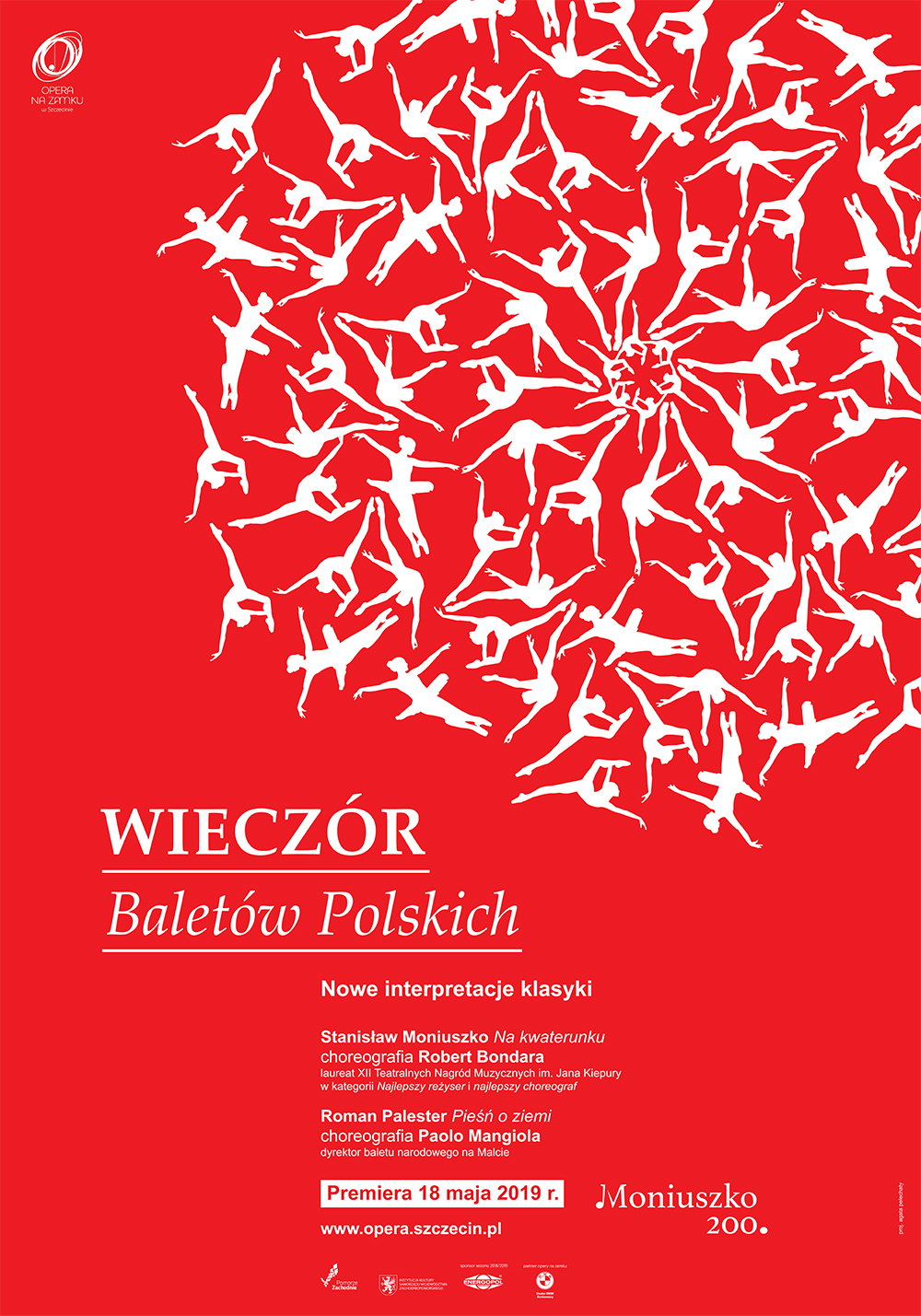 Projekt plakatu: Agata Pełechaty
The premiere was the main event of the celebration of Moniuszko?s year in the Opera at the Castle in Szczecin.
Roman Palester
"The Song of the Earth?
ballet in 3 scenes
Stanisław Moniuszko
?In the lodgings?
ballet in 1 act
Realised with the financial support of the Minister of Culture and National Heritage coming from the Fund for Culture Promotion within the programme ?Moniuszko 2019 ? Promesa? realised by Music and Dance Institute.
The show under the auspices of Polish Music Publishing within the enterprise TUTTI.pl, which promotes performing Polish music.
Kierownictwo muzyczne
Jerzy Wołosiuk
Inscenizacja i choreografia 
"Pieśń o ziemi"Paolo Mangiola
"Na kwaterunku"Robert Bondara
Scenografia i kostiumyMartyna Kander,
Julia Skrzynecka
Reżyseria swiatełMaciej Igielski
Projekcje multimedialneArtur Sienicki
Asystent dyrygentaKuba Wnuk
Pieśń o ziemi  
Panie: 
Panowie:  
Na kwaterunku 
On    
Chłopak 
Dziewczyna I  
Dziewczyna II   
Sierżant  
Cywile 
Żołnierze 
Lekarz  
Dziecko 
Orkiestra Opery na Zamku w Szczecinie 
Dyrygent   
Inspicjent