Duration
2 hours 55 minutes (including two intermissions)
The premiere
26 / 05 / 2012
The most famous woman in opera history, and an incredible challenge as regards singing and acting skills as the singer in the role of Butterfly must face a whole range of extreme emotions and keep singing for almost 90 minutes without leaving the stage.
The dramatic story of the relationship between a geisha and an American Navy officer is set in the vibrant with life present-day Tokyo. The show in Szczecin, which refers to the poetics of films by Lars von Trier, has an extra in the shape of a dancer – Butterfly's alter ego, and multimedia projections.
"Madama Butterfly is a universal story which might as well take place nowadays. The cultural differences are still valid, people still keep falling in love inappropriately; this, in fact, will never change. The staging revolves around numerous contemporary pop cultural themes" – says the director Pia Partum. "Actually, in some aspects the show will have a lot in common with a soap opera."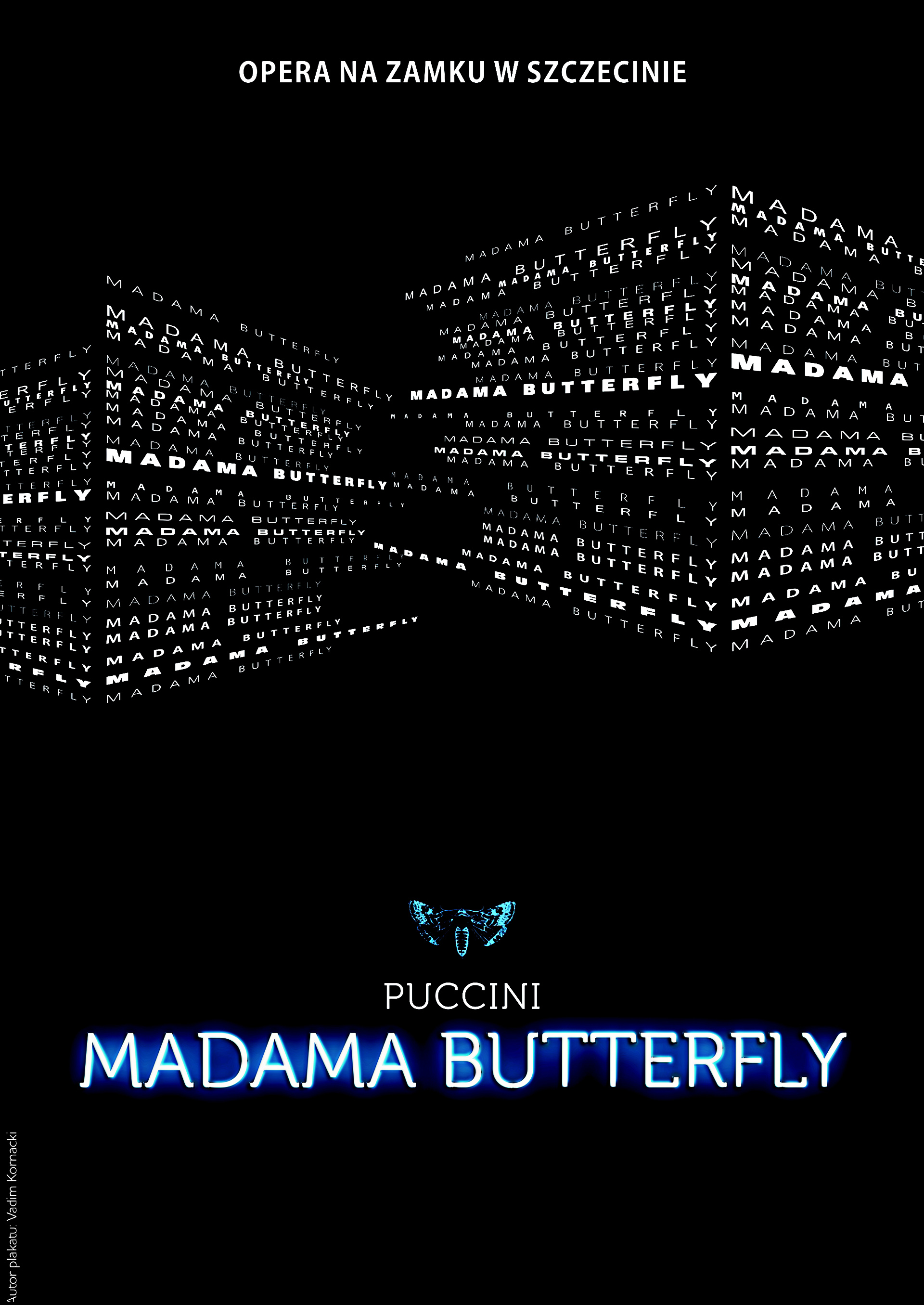 Projekt plakatu: Vadim Kornacki
Giacomo Puccini (1858-1924)
Madama Butterfly
Opera in three acts
Libretto: Luigi Illica and Giuseppe Giacosa
Libretto translated by: Michał Bajer
The original Italian language version with Polish and German subtitles
| | |
| --- | --- |
| Music director  | Wojciech Semerau-Siemianowski  |
| Direction  | Pia Partum |
| Scenography and costume design  | Barbara Hanicka |
| Choreography | Tomasz Wygoda |
| Light direction and projections | Wojciech Puś |
| Video materials  | Masahiro Tachibana |
| Choir preparation  | Małgorzata Bornowska |
| Assistant Director | Wiesław Łągiewka |
Madama Butterfly
Anna Wiśniewska-Schoppa (18.11),
Lucyna Boguszewska (19.11)
B.F. Pinkerton
Pavlo Tolstoy
Sharpless
Tomasz Łuczak
Suzuk
Monika Korybalska
Goro
Dawid Kwieciński
Kate Pinkerton
Anna Rosa
Książę Yamadori
Paweł Wolski
Bonzo
Janusz Lewandowski
Komisarz
Dawid Safin
Urzędnik cesarski
Wiesław Łągiewka
Ćma
Patryk Kowalski
 
 

Orchestra and choir of the Opera at the Castle

Conductor
Vladimir Kiradjiev
Stage management 

Maria Malinowska-Przybyłowicz