Duration
ok. 2 godz. 50 min (w tym jedna przerwa)
Ruggero Leoncavallo, Giacomo Puccini
The premiere
09 / 03 / 2019
Clowns of R. Leoncavallo is one of the most touching operas. It was written at the end of the XIX century. It is a story of great passions: a failed love, betrayal, jealousy. In this staging viewers become participants of the double theatre, the one they came to see and the one that in a moment will be performed by a troupe of comedians. We will take a look backstage with the constant change of decorations and constumes and actors leaving their roles and showing their true faces hidden behind masks.
In the opera of Gianni Schicchi G. Puccini created at the beginning of the XX century we will find human flaws and faults, exaggerated and enlarged like in a distorted mirror. The story presented there really happened in medieval Florence. The libretto portrays family relationships at the moment of death of a wealthy burgher and an attempt to take over the inheritance by greedy relatives. A clever ruse will cause an avalanche of comic events, which through a satire and grotesque will expose hypocrisy, deceit and greed of the close relatives gathered around the death bed. In the opera, laughter will be the best teacher.
Clowns and Gianni Schicchi combine together the great passions which rule human lives and behaviours.They are also combined by the element of theatre in which viewers are not just spectators but also participants of the events. In the staging in Szczecin in one of the roles you will see, a viewer chosen from among the audience.
"You can hear that the viewers are asking one another whether the intermission has started or the show is still going on. Znaniecki will leave this question to us forever"
Dziennik Teatralny
"Gianni Schicchi is not just a joint vocal brilliance, but also an acting one, of a unique comic power, which is also not missing from some of the scenes of Clowns".
Więź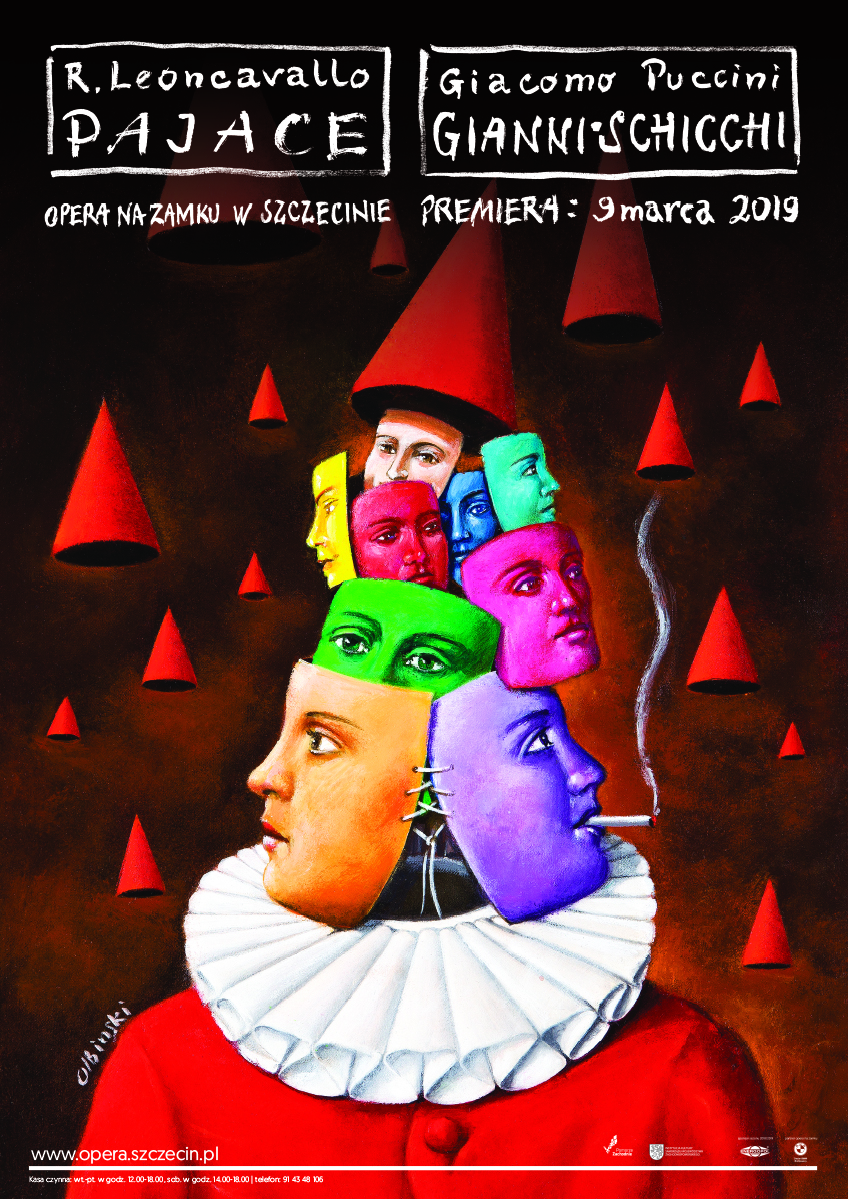 Projekt plakatu: Rafał Olbiński
Ruggero Leoncavallo (1857-1919)
Clowns
An opera in two acts with a prologue
The world premiere: May 21, 1892, Teatro del Verme (Milan)
Giacomo Puccini (1858-1924)
Gianni Schicchi
A veristic opera in one act
Libretto: Giovacchino Forzano
The world premiere: Dec 14, 1918, Metropolitan Opera (New York)
The premiere: March 9, 2019
The original language version with Polish and German subtitles
| | |
| --- | --- |
| Music director | Vladimir Kiradjiev |
| Direction | Michał Znaniecki |
| Scenography | Luigi Scoglio |
| Costume design | Adam Królikowski |
| Light direction | Dawid Karolak |
| Choreography | Damian Malvacio |
| The choir preparation | Małgorzata Bornowska |
| The children choir preparation | Katarzyna Berowska |
| Assistant Conductor | Kuba Wnuk, Svetlomir Zlatkow |
| Assistant Director | Anita Maszczyk, Katarzyna Kubińska |
| Assistant Scenographer | Waldemar Andrzejak |
| | |
| --- | --- |
| CLOWNS |   |
| Canio |   |
| Nedda   |   |
| Tonio |   |
| Silvio |   |
| Beppo |   |
| Kompan 1  |   |
| Kompan 2   |   |
| Syn Cania |   |
|   |   |
| GIANNI SCHICCHI |   |
| Gianni Schicchi  |   |
| Lauretta |   |
| Zita  |   |
| Rinuccio  |   |
| Gherardo   |   |
| Nella  |   |
| Gherardino   |   |
| Betto di Signa   |   |
| Simone  |   |
| Marco   |   |
| Ciesca  |   |
| Mistrz Spineloccio  |   |
| Messer Amantio di Nicolao |   |
| Pinellino, Guccio |   |
|   |   |
| Orchestra, Ballet and Choir of the Opera at the Castle |   |
|   |   |
| Conductor   |   |
| Stage managmen  |   |