Duration
approx. 3 hours 20 minutes (including two breaks)
The premiere
14 / 02 / 2020
I did not want to modernize this tragedy. I thought that it would not be the most important thing for me, but rather Shakespeare himself, that is theatricality and theater in theater (...).
Gounod's adaptation is ironically said to be "four love duets with additions." The duets are very well written, so I decided to focus on what is going on between them. I built the context that sets these duets, i.e. the constant conflict, constant deaths, fights against each other and daily feuds (...).
The divisions are visible in the costumes of the feuding families: the Capers are a group that has money and power, which makes it look more neat, drawn with one line when it comes to costumes, also in color. The Montekich group is a more run-down family whose glory has passed and it shows too. Caphetes wear beautiful Elizabethan ruffles, they are dressed in white, while Romeo's group is rude, has moldy collars, lost ruffles symbolizing its fall (...).
The balcony, garden and chapel are iconographic places closely related to the whole history (...). In our wooden theater interior, stylized as "The Globe" with galleries and windows, the element pointing to the garden will be a wooden tree. It must be remembered that neither Shakespeare nor Gounod tried to tell a documentary story, hence the emphasis on symbols (...).
At the end of the opera, however, the heroes ask God for forgiveness. It is only an underlining of the purity of their intentions, but of a childish innocence that cannot win against the cruel world around us of these great and everyday wars.
Michał Znaniecki, director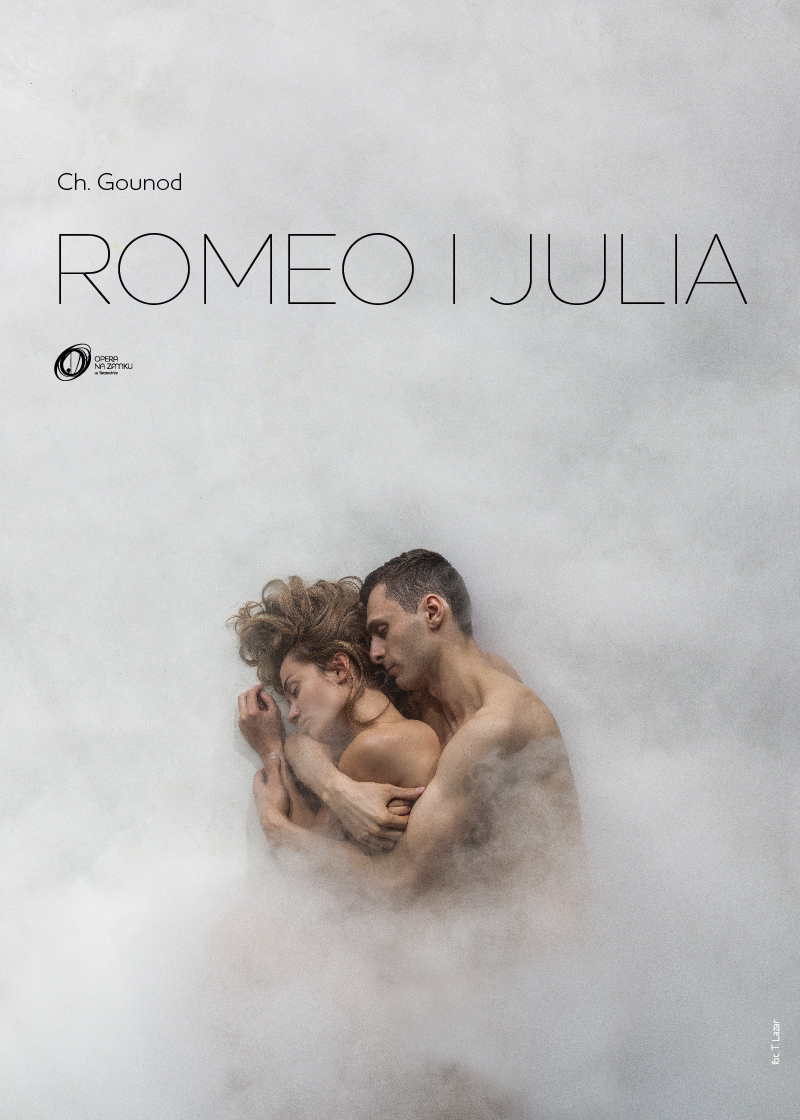 Projekt plakatu na podstawie zdjęcia Tomasza Lazara
Charles Gounod
Romeo and Juliet 
Libretto: Jules Barbier and Michel Carré based on the tragedy by William Shakespeare 
The world premiere: April 27, 1867, Paris
The Polish premiere: June 2, 1888, Teatr Wielki, Warsaw 
The original language version with Polish subtitles 
The premiere: February 14, 2020 
Realised on the grounds of the licence given by Opera Śląska